Advanced Visual Communication Design courses provide in-depth learning of processes for designing, producing and documenting for both print and screen-based media. Research and study continue in typography, composition and other professional design issues. Along with working on real professional projects during the semester, students also document their own personal art-making processes, critical thinking skills, oral presentation skills, and collaboration skills. Projects include, but are not limited to: the design and development of an advertising campaign, exhibition design, branding and identity, and website/mobile app design.
"Mother Goddess" Exhibition Identity by Elliott Woolworth & Kaleigh Kurpiewski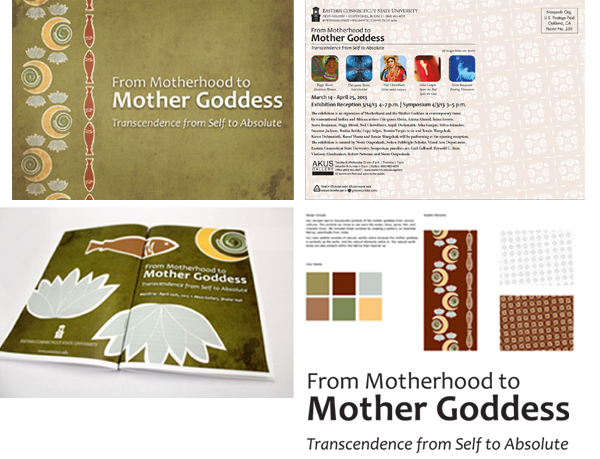 Advertising Project
For this advertising project student worked in groups of four. Students analyzed traditional and digital advertising to better understand the benefits of each. They were asked to create, produce and present a persuasive campaign for a non-profit organization—Project Vote.
Students were given a Creative Brief and wrote parts of the brief pertaining to their specific communications intentions and target audience. Their final presentation was couched utilizing a simulated real experience. The client, Project Vote was not in attendance, but four outside critics listened to their oral presentations. The critics ranged from two art professors, a creative director/designer and a creative director/writer. Each group presented for 20 minutes then took constructive criticism.
The students were required to do rapid prototyping, writing, design, print and screen production, project management, and collaborate. The elements of the advertising campaign were: three bus/train ads; one online banner ad; one digital billboard; a social media idea using Twitter, Facebook, Instagram, etc.; 60 second radio spot; 30 second TV commercial for dissemination via TV or digital outlets; and a container to house the entire campaign package for final presentation.
The example below used the "big idea" of nostalgic 1990's toys to connect with the target audience of Generation Y. The Creative Brief outlines the group's intentions, the Idea List documents 1900's toys and an illustration style. The group included: Chelsea Taylor, Ashley Marko, Christopher McMenamey and Travis Pastor.