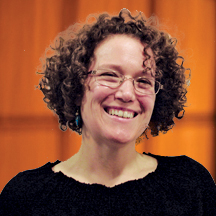 Nancy Wynn is an award winning designer, artist, and educator. With over 25 years of experience in professional design practice, she has worked for advertising agencies and a Fortune 500 corporation, as well as in her own freelance businesses. Currently, Ms. Wynn is a partner with her husband in a creative services business, Palindrome Partners.
Ms. Wynn is an Associate Professor of Visual and Performing Arts at Merrimack College in North Andover, Massachusetts, where she is Director of the Graphic Design Program, Interim Director of Studio Arts, and Co-Director of Film Studies. Ms. Wynn has taught various courses in Visual Communication Design, Photography, Two-Dimensional Design, Digital Art, and Digital Storytelling.
Past accomplishments in teaching include being instrumental in the founding of two undergraduate research design centers in the Hartford area—Civic Design, a student-staffed design center at the Hartford Art School, University of Hartford, which provided professional design solutions to Hartford-area businesses and non-profits, and the Center for Integrated Design (CID) at the University of Hartford. CID brought together faculty and students in the disciplines of architecture, landscape architecture, civil engineering, business and visual communication design to solve municipal design issues for a number of local communities.
Ms. Wynn has published several articles on design, art and education. In 2012, her artwork titled, "Disaster Averted," together with an essay titled, "My Stuff, My Memories, My Story," appeared in the publication, Keep/Delete: Turning Messages into Keepsakes. The Forum on Public Policy published her paper titled, "Image Making and Meaning: Educational Benefits to Studying Design in the 21st Century." Ms. Wynn is also often called upon to speak at art, design and education conferences. In 2013, she was invited to be a panelist on WNPR's "Colin McEnroe Show" to discuss the Dada art movement. And, in 2017, she chaired a panel on flipping the classroom at the FATE Conference in Kansas City, MO.
As an artist, Ms. Wynn has been an active member of the fine arts community for nearly 25 years. Her work has been shown in New York City, Los Angeles, Japan, and in galleries throughout New England. Additionally, her artwork is included in the contemporary art collection at the William Benton Museum of Art.
Since 2003, Ms. Wynn has managed and served as Chair of the Clare Gallery in downtown Hartford, Connecticut. The Clare Gallery is a nonprofit professional exhibition gallery located in the Franciscan Center for Urban Ministry at St. Patrick – St. Anthony Church. The Gallery promotes the arts through its exhibits and educational programs, which focus on world religious, interfaith, and social justice themes.
Ms. Wynn received her MFA from the University of Hartford, Hartford Art School, and her BFA from the University of Connecticut.